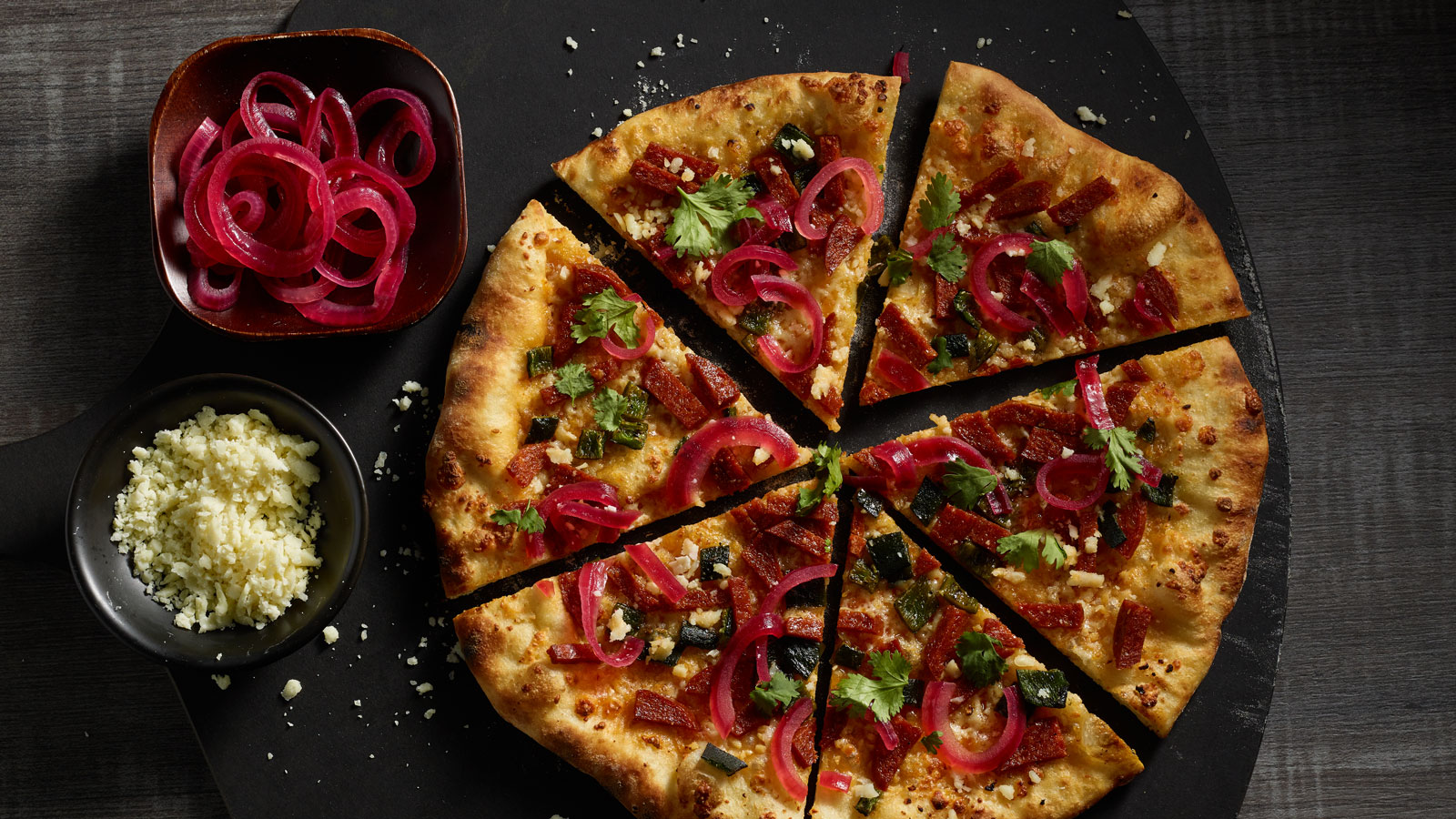 Chorizo and Roasted Poblano Pizza with Pickled Red Onions
This tasty flavor combination may seem familiar. Chorizo and Roasted Poblano Pizza with Pickled Red Onions delivers on flavor: smoky heat from COLUMBUS® Chorizo and roasted poblano peppers, combined with mild cojita cheese and tangy pickled red onions and fresh cilantro reminiscent of a stuffed pepper. Reimagined as pizza, this equally irresistible recipe comes together quickly if you opt for prepared pizza dough.




Ingredients
2 tablespoons

olive oil

1

clove garlic, minced

1 pound

pizza dough, divided into 2 balls, at room temperature

4 ounces

COLUMBUS® Chorizo, chopped and divided

1 cup

crumbled cotija cheese, divided

1/2 cups

chopped roasted poblano peppers, divided

1/2 cups

pickled red onions, divided

1/4 cups

cilantro leaves, divided
Directions
Heat pizza stone in oven to 500° F.  In small bowl, combine oil and garlic.

Stretch one dough ball on lightly floured pizza peel. Brush with 1 tablespoon olive oil mixture. Top with half of the chorizo and ½ cup cheese. Layer on half of the peppers. Transfer to pizza stone.

Bake 10 to 15 minutes, or until crust is golden brown, cheese is melted and chorizo is crisped. Garnish with half of the pickled red onions and cilantro.  Repeat with remaining ingredients to make 2 pizzas.