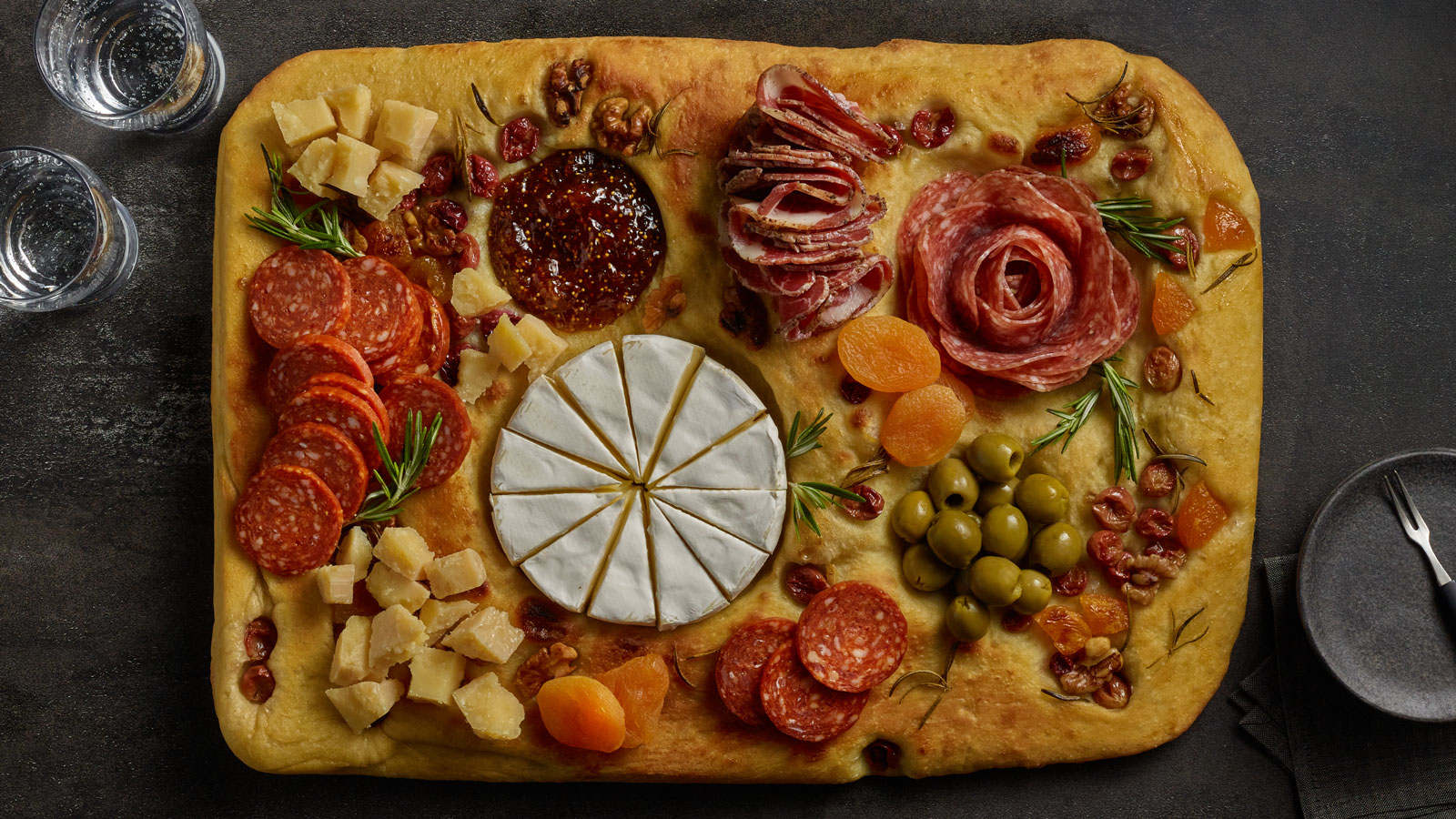 Edible Charcuterie Board
When you want something a little different for your next charcuterie board, consider a fun centerpiece like COLUMBUS® Edible Charcuterie Board. With only a half hour of prep time to make your board and fill it with charcuterie, cheese and accoutrements, you can focus on sharing fantastic pairings with friends and family.




Total Time
1 hour 30 minutes
Ingredients
2 tablespoons

olive oil

1 cup

red grapes

1/2 cups

dried apricots, quartered

1/2 cups

walnut halves

Fresh rosemary sprigs

1 1/2 pounds

pizza dough, at room temperature

1

(8-ounce) wheel brie cheese

1/4 cups

fig jam

Sliced COLUMBUS® Dry Coppa, Sliced COLUMBUS® Calabrese Salami, Sliced COLUMBUS® Italian Dry Salami

Suggested accompaniments: Castelvetrano olives, Parmesan cheese chunks, fig jam, dried apricots and additional fresh rosemary
Directions
Heat oven to 400°F. Arrange three or four upside-down ovenproof dishes or metal ring molds near the center of a large, rimmed baking sheet, leaving several inches between each item. Liberally brush olive oil on dishes and baking sheet. Arrange grapes, apricot pieces, walnuts and rosemary around the dishes and in corners of sheet pan.

Roll or stretch dough to roughly the size of baking sheet. Carefully drape over dishes fitting to baking sheet. Press dough down around dishes and edges of baking sheet. Bake 15 to 20 minutes, or until golden. Carefully invert to another baking sheet. Bake an additional 5 to 7 minutes to brown and crisp the top. Let cool.

Transfer to a platter or cutting board. Arrange meats and suggested accompaniments on top of the bread board.