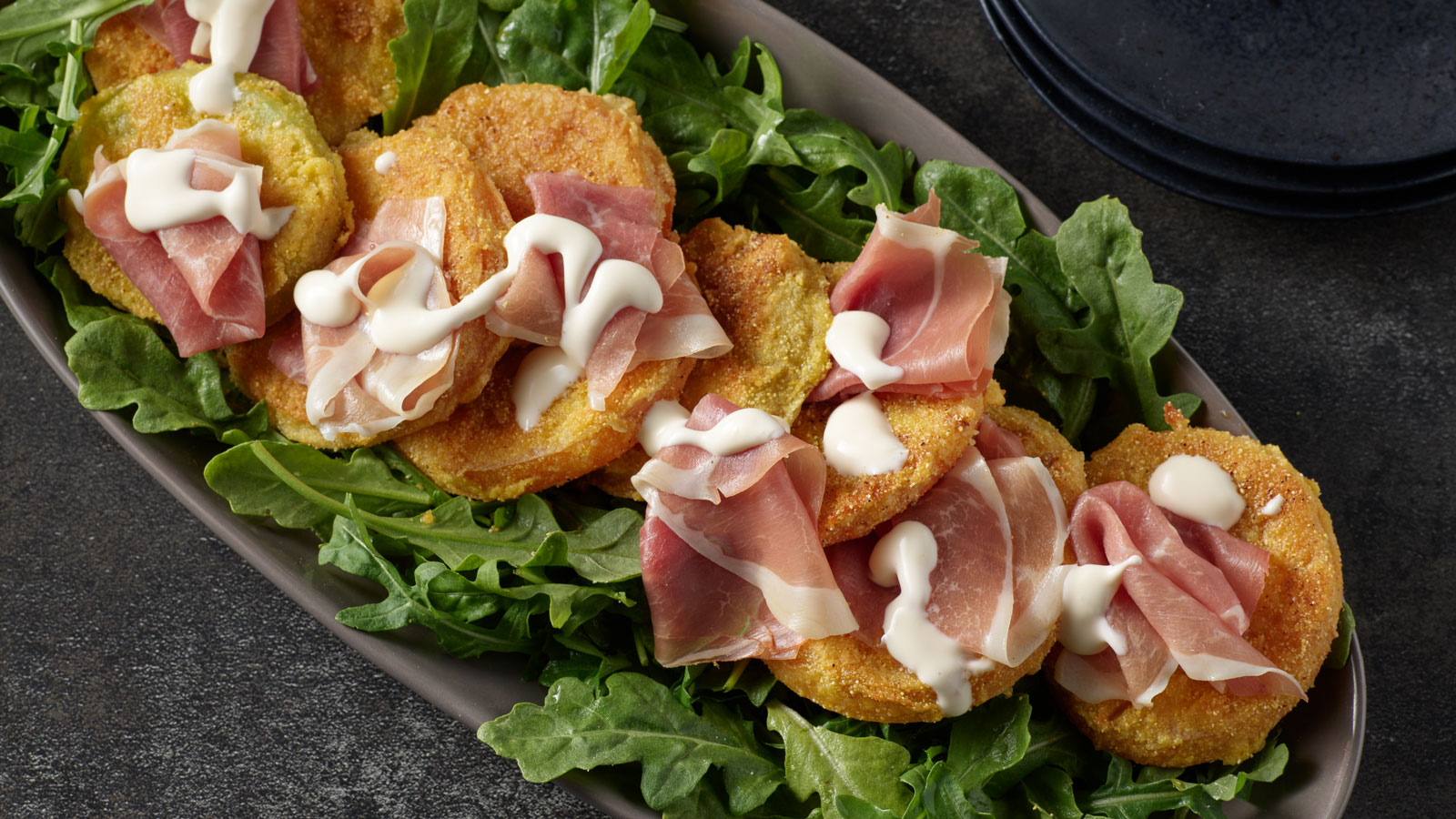 Fried Green Tomatoes with Prosciutto and Lemon Aioli
When life hands you not-quite-ripe tomatoes, make Fried Green Tomatoes with Prosciutto and Lemon Aioli. A perfect dish for entertaining, this fresh take on an old favorite will delight your tastebuds thanks to lean and savory COLUMBUS® Prosciutto, nutty pecorino Romano cheese, peppery arugula, and bright lemon aioli. The beautiful presentation makes this dish irresistible for sharing with loved ones around a table filled with other seasonal eats.




Lemon Aioli
Ingredients
3/4 cups

mayonnaise

2 tablespoons

lemon juice

1

small garlic clove, grated

Salt and pepper to taste
Directions
In small bowl, combine ingredients.
Fried Green Tomatoes with Prosciutto
Ingredients
1 cup

all flour

1/2 cups

cornmeal

1/4 cups

grated pecorino Romano cheese

Pinch of cayenne pepper

Salt and pepper, to taste

2

eggs

1/2 cups

milk

4

medium firm green tomatoes sliced ¼-inch thick

1 cup

oil for frying

2 cups

baby arugula

Olive oil and lemon juice, as desired

1

(3-ounce) package COLUMBUS® Prosciutto
Directions
In shallow bowl, combine flour, cornmeal, cheese and cayenne. Season with salt and pepper. In separate shallow bowl, whisk together eggs and milk. Dip tomatoes into flour mixture, coating both sides. Dip tomatoes into egg mixture; then back into flour mixture.

In large skillet over medium-high heat, heat oil. Working in batches, fry tomato slices 3 to 5 minutes, or until golden brown on both sides. Remove to paper towel lined plate.

On serving platter, place arugula. Drizzle arugula lightly with olive oil and lemon juice. Arrange tomato slices on arugula. Top with prosciutto. Drizzle with Lemon Aioli.