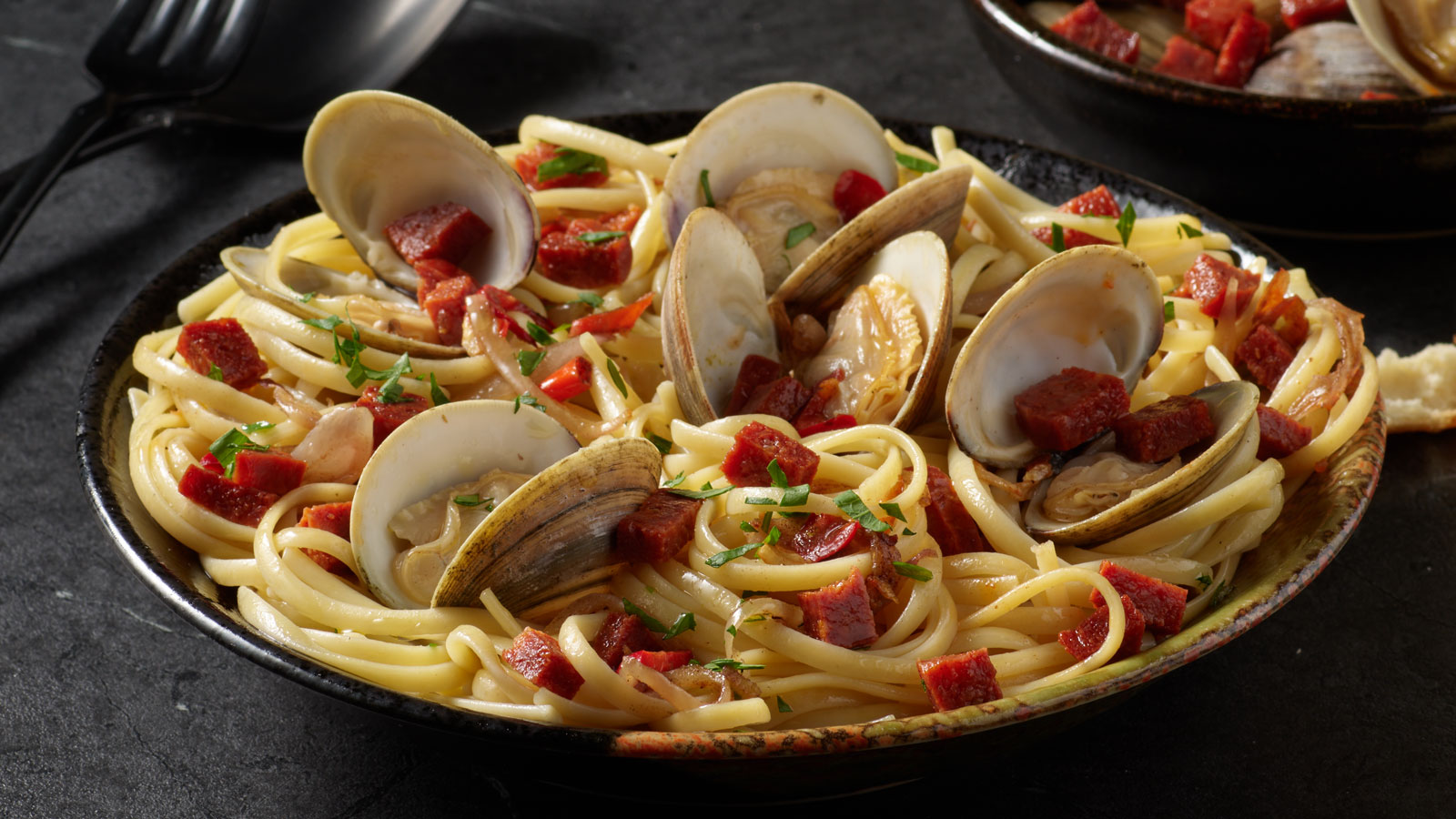 Linguine with Clams and Chorizo
A favorite flavor profile can be found in this seafood recipe that requires just 15 minutes of prep time. Seasoned with smoked paprika and fresh garlic for a zesty, spicy bite, COLUMBUS® Chorizo melds with buttery garlic, shallots and crushed red peppers for a delightful base to which clams and white wine are added. Combined with linguine, finished with bright lemon juice and fresh parsley, Linguine with Clams and COLUMBUS® Chorizo guarantees you a fresh and exciting new dish in your meal rotation.




Ingredients
1/4 cups

olive oil, divided

8 ounces

COLUMBUS® Chorizo, chopped

1/2 cups

butter

kosher salt, to taste

3

garlic cloves, thinly sliced

1

shallot, thinly sliced

1/2 teaspoons

crushed red peppers

2 pounds

littleneck clams (about 24), cleaned

1 cup

white wine

12 ounces

linguine, cooked and drained

Juice of 1 lemon

1/4 cups

chopped Italian parsley

Kosher salt and freshly ground black pepper, to taste
Directions
In large saucepan over medium-high heat, heat 1 tablespoon oil. Add chorizo. Cook 3 to 4 minutes or until crisped. Remove from pan with slotted spoon.

Add remaining oil and butter. Once butter has melted, add garlic, shallots, and crushed red peppers. Cook 1 to 2 minutes, or until shallots are soft. Add clams and wine. Cover. Cook 10 to 12 minutes, or until clams open.

Add pasta to saucepan with clams. Add lemon juice, reserved chorizo and parsley. Season to taste with salt and pepper.