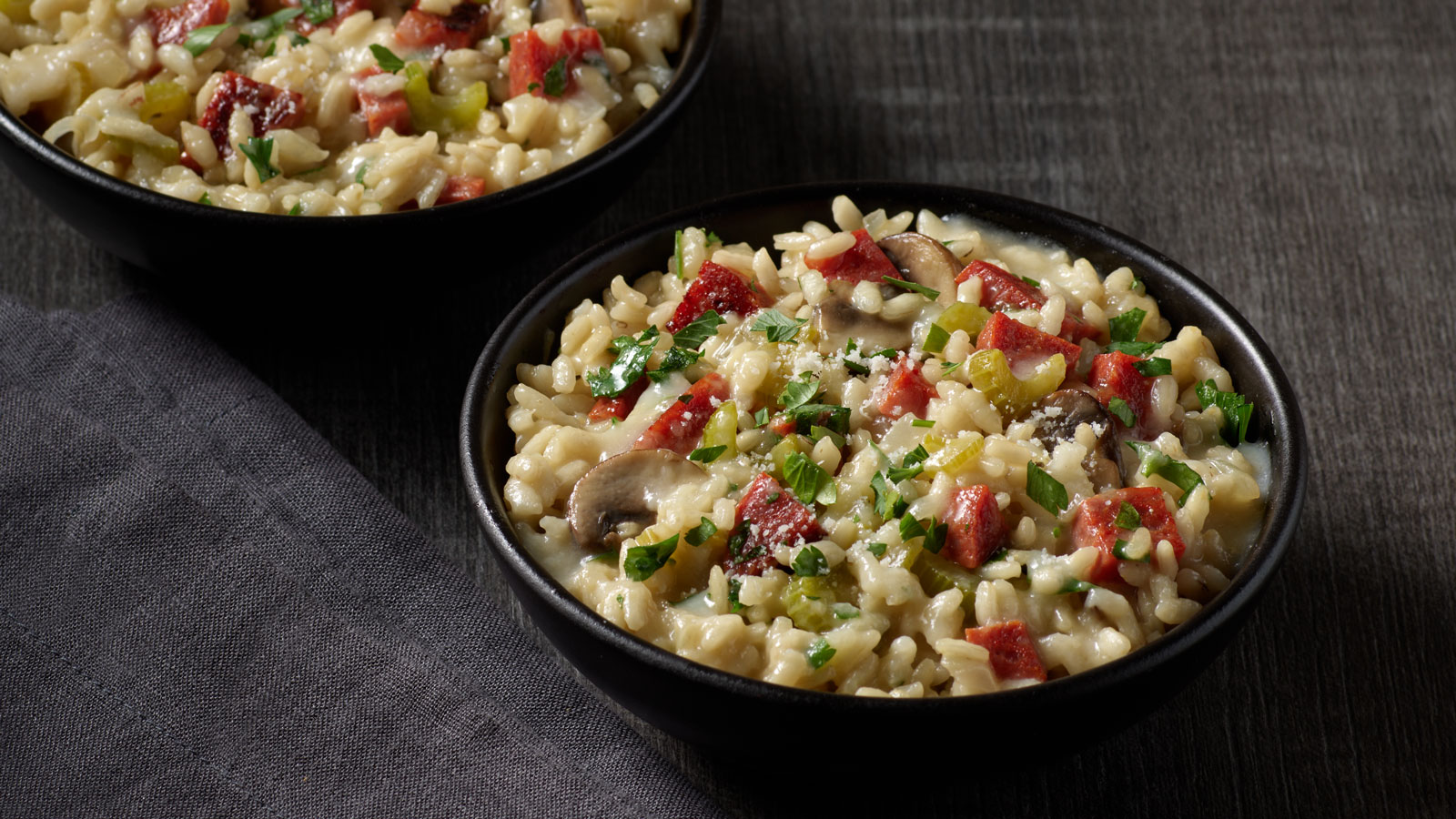 Risotto with Calabrese Salami and Mushrooms
Risotto with COLUMBUS® Calabrese Salami and Mushrooms looks and smells as delicious as it tastes. Elevating a classic mushroom risotto recipe with COLUMBUS® Calabrese Salami means added flavors of crushed red pepper and red bell peppers with a spicy finish. Grated Parmesan cheese provides the perfect complement to ensure this dish delivers on creamy, rich goodness.




Ingredients
1/2

COLUMBUS® Calabrese Salami

1

small onion, chopped

1 cup

chopped celery

4 ounces

cremini mushrooms, sliced

3/4 cups

arborio rice

1/2 cups

dry white wine

2 1/2 cups

chicken broth, heated

1/3 cups

grated Parmesan cheese

2 tablespoons

chopped Italian parsley

Salt and pepper, to taste

Additional grated Parmesan cheese and chopped Italian parsley for serving
Directions
In large saucepan over medium-high heat cook salami 2 to 3 minutes, or until fat is rendered and salami is crisp. Remove from pan with slotted spoon.

To same pan add onion and celery. Cook 3 to 5 minutes, stirring to soften. Add mushrooms, cook 2 to 3 minutes. Stir in rice. Add wine; heat to boiling. Cook 1 to 2 minutes, or until wine is reduced by half.

Add 1/2 cup heated broth; cook, stirring until broth is absorbed.  Adding ½ cup broth at a time, continue cooking and stirring 20 to 25 minutes until broth has been added and absorbed. When done, rice should be just cooked and slightly chewy.

Stir in salami, cheese and parsley. Season to taste with salt and pepper. Divide between bowls and top with additional cheese and parsley.