At The Coppa is a melody of rich, authentic flavors that may make you nostalgic for a romantic past. Kick things off with our Dry Coppa, full of old-world goodness, layers of savory flavor, and lively notes of nutmeg, pepper and allspice. Next, apply a thin layer of turbinado sugar to the top of the chevre and torch for the crave-worthy taste of sweet, cheesy char. Candied walnuts lend color, texture and nuttiness that pair beautifully with the tang of fresh blackberries. And that's At the Coppa — where flavor and passion are always the fashion.
At The Coppa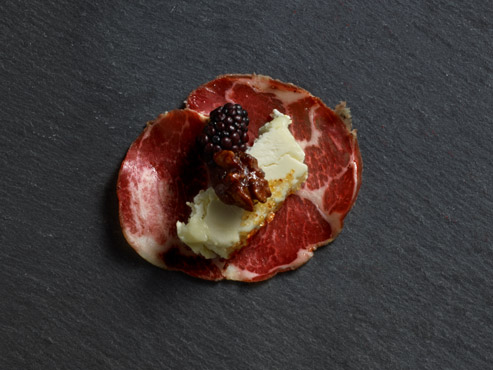 At The Coppa
Ingredients
3 oz. COLUMBUS® Dry Coppa, sliced
6 oz. Cypress Grove Humboldt Fog®
1-2 tsp. turbinado sugar
3-4 oz. candied walnut
4 oz. blackberries
How to enjoy
1. Spread a thin layer of turbinado sugar on top of the ripened Humboldt Fog chevre and brulee with a kitchen torch.
2. Using your fingers, take a Coppa slice and pinch up a piece of the bruleed chevre.
3. Top the pinched bite of Coppa and chevre with a candied walnut and blackberry. Enjoy this powerful combination in one bite. Savor the romantic flavors of the meat and cheese as you break through with the mild sweetness of a blackberry and a candied nutty walnut.
4. A sip of a mild smoky whiskey allows the sweetness of this perfect bite to linger as you enjoy the robust chew of Coppa to finish.
BEVERAGE PAIRING
Whiskey

ABOUT COLUMBUS® Dry Coppa
A rhapsody of flavors. We use closely-trimmed pork shoulder that's rubbed with pepper, nutmeg and allspice. COLUMBUS® Dry Coppa is then slowly aged and air dried for at least 45 days, to bring out its full tenderness and fragrance. A great substitute for prosciutto, our Coppa is gluten free and doesn't have artificial flavors, colors or preservatives.