Bittersweet Melody is like music you can taste, color you can smell. It's a composition of contrasts that counts off with our Finocchiona Salami. Famous for its delicate fennel flavor, Finnochiona is a classic Italian salami based on an original Columbus recipe. Follow a bite of the salami with a sip of the IPA and something magical happens: The normally bitter finish of the hoppy ale morphs into a sweeter ambrosia, thanks to delicate tones of fennel. Up next, sweet and tangy tones of blood orange harmonize with the bittersweet dark chocolate square.
Bittersweet Melody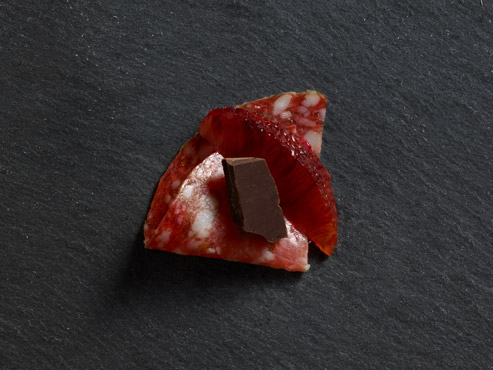 Bittersweet Melody
Serves 6
Ingredients
4 oz. COLUMBUS® Finocchiona Salami, thinly sliced
1 blood orange, sectioned
4 oz. IPA
3 oz. dark chocolate bar
How to enjoy
1. Take a sip of the IPA beer and enjoy the full flavor of aromatics with the bitter bite of hops.
2. Take a full thin slice of Finocchiona and enjoy the herbaceous fennel flavor slow-aged into the salty meat.
3. While chewing the salame, take another sip of the IPA and taste the sweeter finish that the flavor combination brings.
4. Follow up the pairing with a blood orange slice and dark chocolate to get a full-bodied, floral flavor bomb that makes for a velvety flavor experience while drinking your hoppy beverage.
BEVERAGE PAIRING
IPA
ABOUT COLUMBUS® Finocchiona Salami
As old Italian folklore goes, a thief walking through a fair in Prato, Tuscany stole a stick of salame from a merchant and hid it in a field of wild fennel. When he returned, it had absorbed the distinct sweet flavor and aroma of the fennel and Finocchiona was born. We make COLUMBUS® Finocchiona Salami with whole cuts of pork, fresh garlic, sherry wine and wild fennel seeds that add a mellow aroma and taste. Slow aged for up to 90 days depending on size. This recipe with a delicate flavor won the Good Food Award in 2013 for Best Charcuterie.