There's a reason the classics are classics. They're the beloved recipes and dishes that respect hundreds of years of tradition, keeping alive flavors and sensations we still crave today. Motherboard is one of our purest expressions of the craft, and an example of "what grows together, goes together" because meats, cheeses and fruits raised and grown in a single region pair deliciously. Get the flavors rolling with the deep goodness of our COLUMBUS® Italian Dry Salami and add umami-rich Parmigiano Reggiano for a pairing of culinary soulmates. The tart grapes and chewy, salty olives provide a savory finish.
Motherboard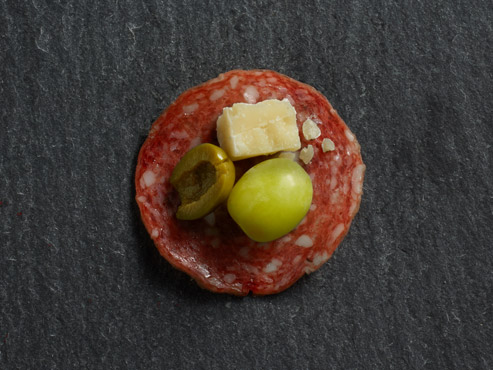 Motherboard
Ingredients
4 oz. COLUMBUS® Italian Dry Salami, thinly sliced
3 oz. Parmigiano Reggiano, broken into rustic bite-size crumbles
3 oz. Castelvetrano olives
3 oz. green grapes
How to enjoy
1. Start with a bite of slow-aged COLUMBUS® slow-aged Italian Dry Salame and enjoy the bold romance of red wine, garlic, salt and pepper with the pork on its own.
2. Next, add a piece of Parmigiano Reggiano to the bite and enjoy the bursts of umami crystals in the cheese reacting with the slow-aged salame. As you continue to chew, you enjoy more complexity in these Italian creations.
3. Finish the experience with a green grape for a burst of sweet acidity or a briny and buttery Castelvetrano olive as you take a deep drawl of pinot noir.
BEVERAGE PAIRING
Pinot Noir
ABOUT COLUMBUS® Italian Dry Salami
COLUMBUS® Italian Dry Salami has made San Francisco—its city of birth—the salame capital of the U.S. We've been making ours since 1917, when our founders adapted a recipe for Milano style Salame. We use only select cuts of pork, cracked black pepper, our signature blend of spices, and burgundy wine—giving it a unique richness and aroma, and a nice bite from the slow curing. Aged 21 to 33 days depending on size.