What goes around comes around with The G.O.A.T. This visually stunning bite pairs an Italian salami with Dutch aged goat cheese from Holland, for a marriage made in charcuterie heaven. Our Sopressata Salami, richly flavored by fennel, garlic and spices, is slow aged for a mild flavor. It mates deliciously with the nutty, buttery, caramel creaminess of the Midnight Moon gouda. The goat gouda and Sopressata make a luscious foundation for act three: the sweet-yet-tart taste of ripe blackberry. Then, bring it all back to where you began with the honeyed crunch of candied pecan.
The G.O.A.T.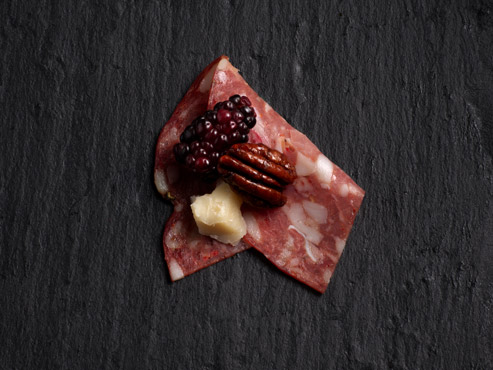 The G.O.A.T.
Serves 6
Ingredients
4 oz. COLUMBUS® Sopressata Salami
6 oz. Cypress Grove Midnight Moon® gouda
4 oz. blackberries
3-4 oz. candied pecans
How to enjoy
1. Break the gouda into bite-sized pieces.
2. Fold your Columbus® Sopressata slice in half and use to pick up the gouda bite.
3. Refresh your palate with the sweet bite of blackberry.
4. Arrive back at the corner of nutty goodness and rich umami with the candied pecan.
5. Repeat cycle until your glass of pinot noir or pale ale is empty.
Beverage pairing
Pinot Noir, Pale Ale
ABOUT COLUMBUS® SOPRESSATA SALAMI
The recipe for COLUMBUS® Sopressata Salami originates from the Abruzzese region of Italy. We use sweet fennel and fresh garlic to give this rich salame a highly complex aroma. Our slow aging process brings out the distinctive mild flavor of the meat. Aged 21 to 51 days depending on size.