As legend has it, we have the ancient Romans and Spain's 13th century King Alfonso to thank for the culinary blessing that is tapas. The Barcelona would be right at home served at any of the bar de tapas that line the streets of its namesake city. Spanish manchego cheese kicks things off on a vibrant, nutty note, before melting wonderfully with the warm paprika buzz of our Chorizo Salame. The peppadew picks up where the Chorizo leaves off, with a mild and savory heat.
The Barcelona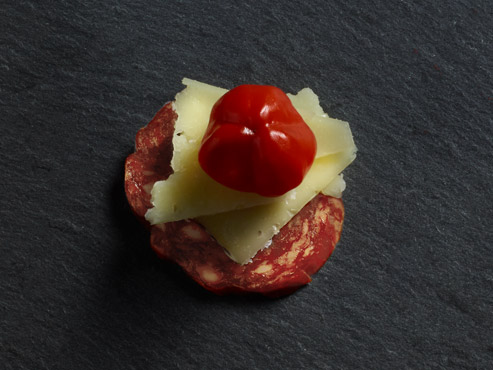 The Barcelona
Serves 6
Ingredients
8 oz. COLUMBUS® Chorizo stick, cut into 1/8" slices at a 45-degree angle
5 oz. aged manchego cheese, cut into 1/16" slices
4 oz. peppadews
Optional: chimayo mango, canned mussel and balsamic drizzle
How to enjoy
1. Take a bite of the slightly waxy and nutty manchego cheese on its own.
2. Follow with the COLUMBUS® Chorizo slice and let smoky paprika goodness blanket the manchego nuttiness.
3. Let the bold acidity and slight sweet heat of the peppadew take your mouth on an exciting flavor trip.
4. Pairs with added life of a good glass of sangria, Spanish red wine or Porter
5. Try with some chimayo mango to create a "mole" like experience, or wow your taste buds with a canned mussel and balsamic drizzle on top.
BEVERAGE PAIRING
Sangria, Spanish Red, Porter
ABOUT COLUMBUS® Chorizo Salame
COLUMBUS® Spanish Style Chorizo Salame is seasoned with smoked paprika and fresh garlic for a zesty, spicy bite. Crafted using select cuts of pork, it's slow aged to round out its robust, hearty flavor. Chorizo complements an array of accompaniments, from peppadew and dark chocolate to canned smoked mussels, manchego or aged cheddar.