In the beginning, there was Secchi. Sweet Divine builds on our Salami Secchi. Based on a classic Italian recipe, made with crushed pepper and burgundy wine, Secchi is revered for its smooth, subtle flavor and satisfying chewiness. We pair the salami with a delicious trinity of brie, fig spread and fresh strawberries. Creamy, buttery brie pairs perfectly with Secchi's complex flavor profile, right down to the natural rind on the brie and the salami's edible casing, also known as fiore, while the sweet goodness of fig and strawberry tang make for an inspired, even transcendent finish.
Sweet Divine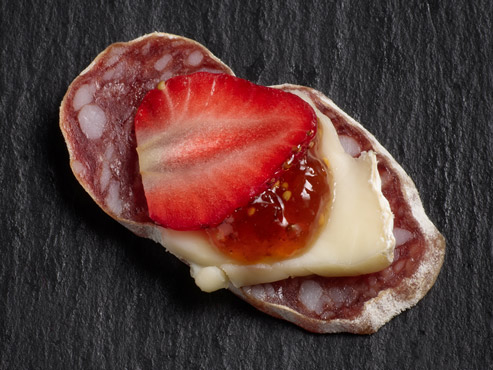 Sweet Divine
Ingredients
1 stick (approx. 7 oz) COLUMBUS® Salame Secchi, cut into 1/8" slices
6-8 oz. triple cream brie
3 oz. fig spread
8-10 fresh strawberries
Optional: 6 oz. fruit and nut style cracker or 4 oz. lavender sugar tossed Marcona almonds
How to Enjoy
1. Use a knife to cut Salame Secchi at a 45-degree angle to get a 1/8" slice of salame.
2. Spread brie cheese onto the face of the Secchi slice using a thin cheese knife.
3. Top brie with a nickel-sized dollop of fig spread.
4. Enjoy the creamy indulgence of the triple cream brie paired with the mild sweetness and umami of the Secchi, followed by the bold sweetness of fig spread in one bite.
5. Finish with the sweet acidity of the halved fresh strawberry to lighten up the pairing.
6. Optional: Add a fruit and nut style cracker or lavender sugared Marcona almond for a delicious crunch.
7. Hard cider or dessert wines are perfect ways to enjoy this heavenly marriage of meat, cheese and fruit. A board fit for the gods!
BEVERAGE PAIRING
Hard cider, dessert wine
About COLUMBUS® Secchi Salami
We created our secchi—which means 'dry' in Italian—in San Francisco, based on a traditional Italian recipe for Salametti. COLUMBUS® Secchi Salami is one of our oldest salame recipes. Made with crushed white and black peppercorns and burgundy wine, it's hand-tied and slow-aged in a natural casing that gives it a subtle, smooth flavor. Aged at least 21 days.