Trying to highlight the celebration of pepper flavor in our spicy portfolio. Deep rich notes of heat and pepper, smokiness from the chorizo. Really plays nice to the depth of rich flavor with the coffee in the espresso Bellavitano. With the chorizo, want to pair it with the aromatic bitterness of the blood orange, and finish it off with the roasted richness of the dark chocolate almond. Deep resonating heat with the Hot Sopressata pairs nicely with the sweet peppers to bump up that sweet heat combination with that acidity break that finishes nicely.
Smoky Vibes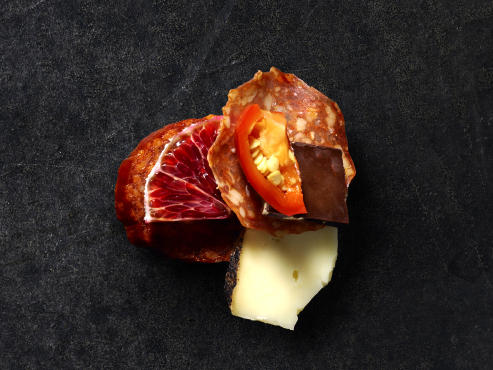 Smoky Vibes
Serves 6
INGREDIENTS
8 oz. COLUMBUS® Chorizo Salame
3 oz. COLUMBUS® Hot Sopressata
6 oz. Sartori Bellavitano Espresso cheese
3 oz. sea salt and almond dark chocolate bar
2 oz. sliced blood orange
4 oz. peppadew peppers
HOW TO ENJOY
1. Slice your chorizo with a knife at a biased angle into thin cracker cut slices. Sliced the cheese with a knife and present with espresso rub on top of cheese.
2. Enjoy the smoky savoriness of our chorizo as you follow up the pairing with the coffee rubbed boldness of Bellavitano cheese.
3. Layer the meat and cheese combination with the floral citrus of a blood orange before grabbing a slice of Hot Sopressata Salame to bring the resonating heat and you continue to enjoy the flavor experience. Follow with the sweet heat of a peppadew and a dark chocolate almond to bring together a flavor experience that will excite your palate and mind.
BEVERAGE PAIRING
Porter: Bold and robust beer with coffee flavor notes enhances this bite.
Pinot Noir: Fruity notes of a smooth Pinot Noir pair perfectly for easy enjoyment.