Sweet Heat is one neat, palm-of-your-hand packet that wraps up delicious flavors from around the world. The Espresso BellaVitano® is a taste of Italy by way of Wisconsin: Creamy, custardy, goodness with a trace of coffee. The cheese is balanced by the tropical paprika-dusted mango, deep layers of cocoa and a satisfying almond crunch. The sweety drop pepper, from Peru, adds a sweet and sour kiss, as it's all tucked into a yummy envelope of COLUMBUS® Hot Sopressata Salami. With spicy undertones and layers of flavor, it's a bit like a Mexican mole, minus the hours of prep and cooking!
Sweet Heat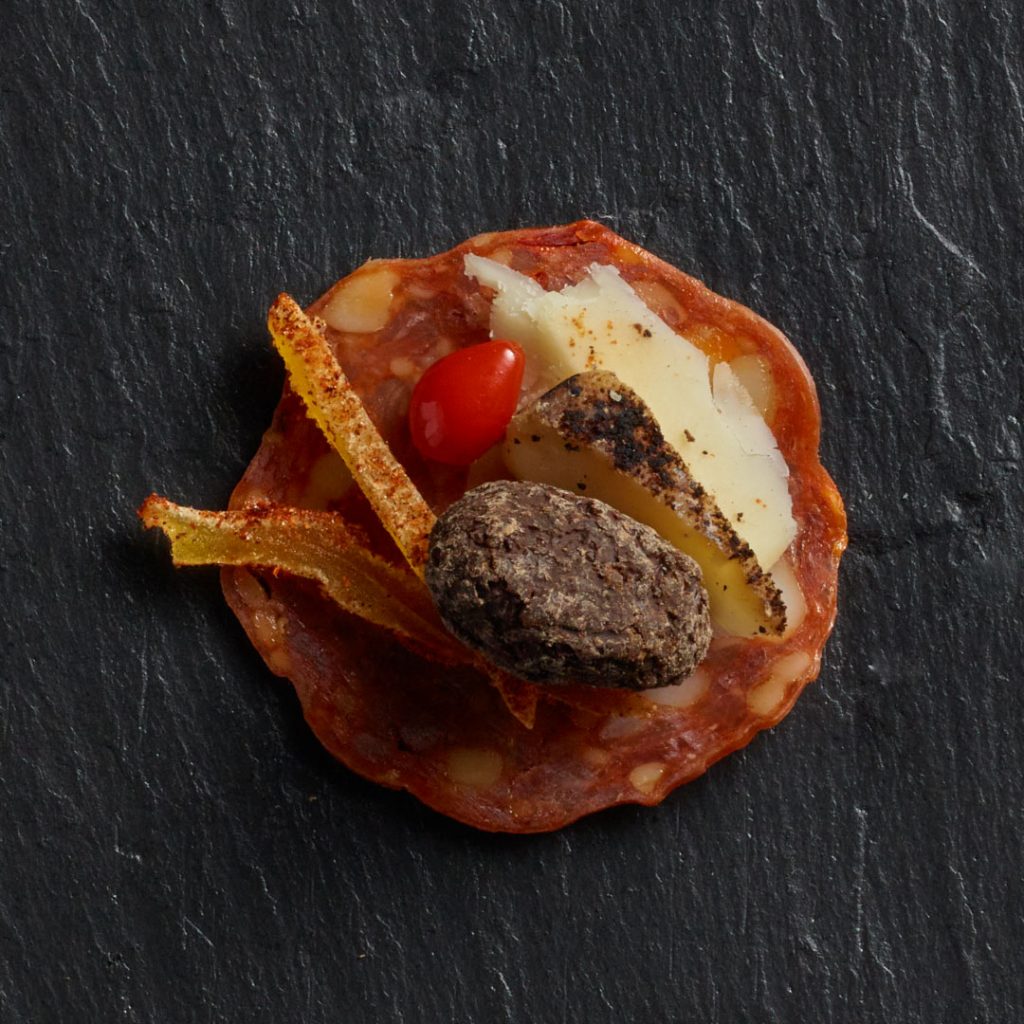 Sweet Heat
SERVES 6
INGREDIENTS
8 oz. COLUMBUS® Hot Sopressata, sliced thin
6 oz. Sartori Espresso BellaVitano® cheese triangle, chunked
4 oz. chili mango, dried and sliced into slivers, biased cut or ¼ in cubes
4 oz. dark chocolate almonds
1 sweety drop pepper
HOW TO ENJOY
Create a small "cup" and fill it with your ingredients: BellaVitano cheese, mango, chocolate almonds and sweetie drop pepper plus a sweety drop in the middle of the slice laid flat.
Grasp the outer edges of your Sopressata and twist into in a cone shape. Place any small slivers of remaining ingredients into the cone opening.
Eat your packet of goodness in one bite, enjoying its evocative medley of umami, salt, sweet, dusky chocolate, nutty crunch spice. It's like a deeply layered mole, without the hours and hours of prep and cooking!
BEVERAGE PAIRING
Cabernet Sauvignon, Sangria, or Mexican Lager
ABOUT COLUMBUS® HOT SOPRESSATA SALAMI
Chile de arbol, paprika, and sherry wine give COLUMBUS® Hot Sopressata Salami—made with coarsely chopped whole cuts of antibiotic-free pork—a highly complex aroma and a pleasantly spicy finish. Aged 21 to 52 days, depending on size.