At first blush, these five flavors make unlikely board fellows. But as we always remind ourselves: tasting is believing. In The Unexpected, notes of cured pork umami, spice, chocolate, peanuts and apple swirl together like a one-bite mini symphony of flavor and texture. Like the title suggests, this Perfect Charcuterie Bite arrives as a delightful surprise. Paired with our classic Italian Dry Salami, the robust cheddar heightens the creaminess of the peanut butter cup.
Pair the salty-sweet tang of our salami with fresh apple for a crisp, crunchy finish. Spicy and complex, filled with flavors both familiar and surprising, this Bite captures our passion for creative, beautiful charcuterie.
The Unexpected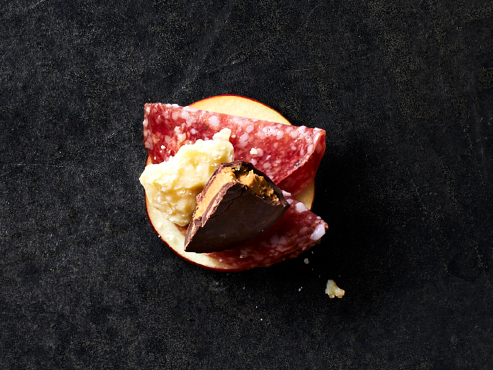 The Unexpected
Serves 6
Ingredients
1/3 lb. COLUMBUS® Italian Dry, thinly sliced
6 oz. aged cheddar, broken into small bites
6 large JUSTIN'S® Dark Chocolate Peanut Butter Cups
1 gala apple, sliced
How to Enjoy
1. Break down the cheddar block with a knife into small bite-size pieces.
2. Lay thin slices of Italian Dry within the plated cheddar.
3. Cut the peanut butter cups in halves.
4. Slice apple in half-moon wedges.
5. Stack the piece of salame with a bite-sized piece of cheddar, wedge of apple and peanut butter cup. Enjoy in one bite.
Beverage Pairing
Chocolate Stout, Porter
We've been faithfully making Italian Dry Salami since 1917. Today, we still handcraft it in the Bay Area. We use only select cuts of pork, cracked black pepper, our signature blend of spices and burgundy wine — giving it a unique richness and aroma, and a nice bite from the slow curing. Aged three to four weeks, depending on size.