Pear, pecan, chocolate and caramel in Bold & Bleu make for a luscious play of sweet, creamy and salty notes. Our peppery Calabrese Salami triggers a subtle heat that pairs beautifully with the creaminess of the bleu cheese. It's a big flavor experience, filled with potent tastes and textures, all brought into satisfying harmony by the expert hand of our charcuterie director, Evan Inada. Bold & Bleu: it's our wake-up call for taste buds everywhere.
Bold and Bleu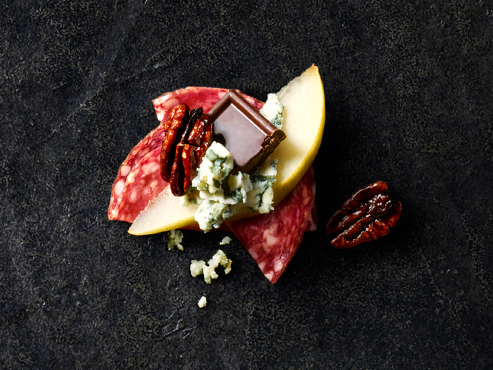 Bold and Bleu
Serves 6
Ingredients
1/4 lb. COLUMBUS® Calabrese Salami
8 oz. bleu cheese, broken into small bites
8, 1 oz. dark caramel chocolate squares
1/2 c. candied pecans
1 Bartlett or Bosc pear thinly sliced
How to Enjoy
1. Lay the Calabrese slices out flat and allow to sit at room temperature.
2. Cut pear into long wedges.
3. Break chocolate squares in halves and place alongside bleu cheese.
4. Fold Calabrese slice over bleu cheese, top with dark chocolate caramel, pear wedge and pecan. Enjoy in one bite.
Beverage Pairing
Porter or Stout
Our COLUMBUS® Calabrese Salami focuses on zesty heat to showcase the flavor of peppers while still tasting the craftmanship in the salami itself. Red bell peppers and utica peppers provide a full flavor experience and allow for spice responsibly.