Over a century ago, our founders brought the flavors of Italy to North Beach in San Francisco. Now we bring the flavors of North Beach to you. Fennel-infused Finocchiona Salami is our modern-day interpretation of authentic recipes our founders brought from Italy to San Francisco a century ago. Mellow Finocchiona brings out herbal notes in the basil, which raises the creamy, delicate flavor of the burrata. Fresh burrata and cherry tomatoes dressed in fine olive oil, flecked with basil, evoke classic Italian flavor.
The North Beach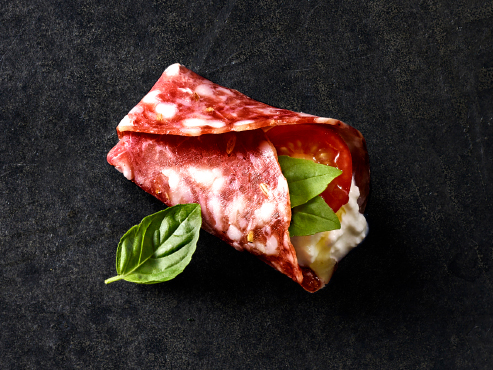 The North Beach
Serves 6
Ingredients
1/2 lb. COLUMBUS® Finocchiona Salami, thinly sliced
8 oz. fresh burrata in liquid, cut length-wise into quarters
8 oz. cherry tomatoes, halved
1 bunch of fresh basil leaves
4 oz. extra-virgin olive oil
How to Enjoy
1. Take a Finocchiona slice and use it as the "plate" in your hand.
2. Add a spoonful of burrata onto the Finocchiona.
3. Place a halved cherry tomato and single basil leaf on top.
4. Drizzle with olive oil, then pinch two ends of the salame together like a small taco.
Beverage Pairing
Prosecco or Pinot Noir
We make Finocchiona Salami with whole cuts of pork. Then we take fresh garlic, sherry wine and wild fennel seeds that add a mellow aroma and taste. Slow aged for up to 90 days, depending on size. This recipe with a delicate flavor won the Good Food Award in 2013 for Best Charcuterie.