Summery, buttery flavors run through this Bite like a fresh spring through your favorite picnic spot. The mild sweetness of our Rosette De Lyon Salami paired with mimolette builds a warm, slow-aged deliciousness. Paired with the subtle tang of fresh blueberries, this Bite just might evoke the classic cheese and meat shops of Europe's most romantic city. We hope Parisian Picnic inspires you to create new epicurean experiences of your own – the kind you can enjoy the next beautiful day that comes your way.
Parisian Picnic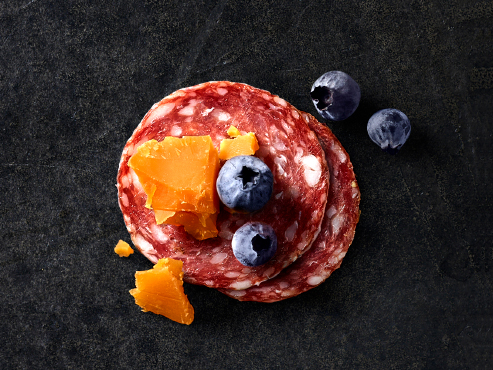 Parisian Picnic
Serves 6
Ingredients
1/3 lb. COLUMBUS® Rosette De Lyon Salami, thinly sliced
6 oz. wedge of mimolette, chunked into small bites
1/2 c. fresh blueberries
How to Enjoy
1. Lay the Rosette De Lyon slices out flat and allow to sit at room temperature.
2. Break down the mimolette wedge with a knife into small bite-size pieces.
3. Pat dry blueberries and place within the plate beside the mimolette and Rosette.
4. Place a blueberry and chunk of mimolette cheese on top of the Rosette. Enjoy in one bite.

Beverage Pairing
Kolsch
The recipe for this country-style, rose-colored salame originated in Lyon, the culinary capital of France. We make ours with select cuts of coarsely chopped pork, add fresh garlic and white peppercorns, then slow age it for over three weeks. The result is a sweet, mellow flavor.