Spanish flavors and textures come alive in fun new ways in our tapas-inspired bite, The Crackle. Addictively tasty on its own, savory pimento cheese spread lends a luscious backdrop for bright flavors and crispy textures to come. Succulent, aromatic pimentos mingle with sweety drop peppers; their delicious chewiness adding to the crunch of airy, crispy chicharrons to give this bite its signature "crackle." Our subtle, hearty Chorizo magically brings together these different taste sensations into what is, indeed, a delicious taste of tapas.
The Crackle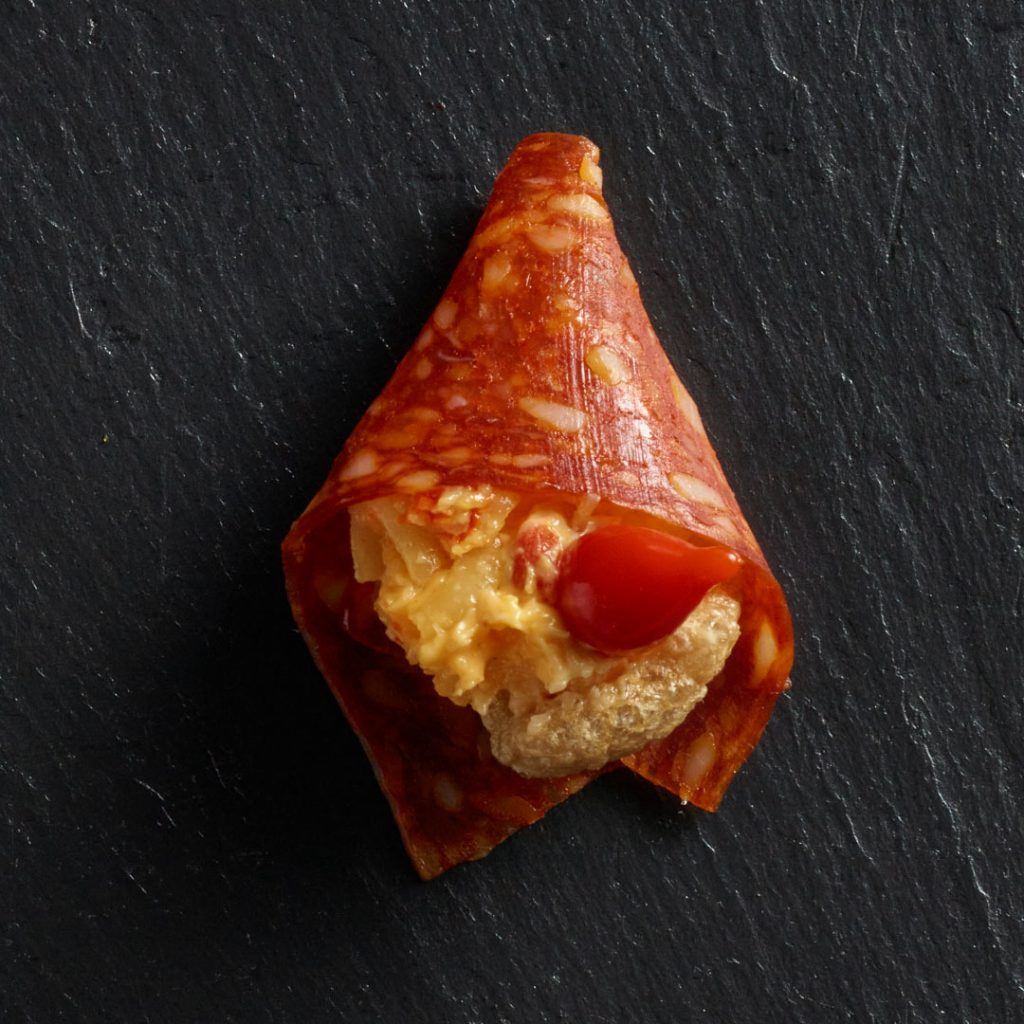 The Crackle
Serves 6
INGREDIENTS
8 oz. COLUMBUS® Spanish Style Chorizo Salame, sliced lengthwise
6 oz. pimento cheese spread
4 oz. bag of chicharrons
4 oz. sweety drop pepper
HOW TO ENJOY
Cut the chorizo lengthwise in half, then cut a thin slice of the salame to use as your "base."
Working with the chorizo slice, place a dollop of pimento cheese in the center then wrap upward, making a small cylinder.
Tuck a few pieces of sweety drop pepper inside the cylinder, followed by a piece of chicharron. Wrap the end of your cylinder and enjoy in one perfect bite.
BEVERAGE PAIRING
Red Ale, Amber, Tequila Cocktail Pomelo, Spanish Red
ABOUT COLUMBUS® SPANISH STYLE CHORIZO SALAME
COLUMBUS® Spanish Style Chorizo Salame is seasoned with smoked paprika and fresh garlic for a zesty, spicy bite. Crafted using select cuts of pork, it's slow aged to round out its robust, hearty flavor. Chorizo complements an array of accompaniments, from peppadew and dark chocolate to canned smoked mussels, manchego or aged cheddar.